Our Success
Nationally reported data support consistent and favorable outcomes for NewLIFE patients. We consider this fact to be one of our greatest achievements and a compliment to dedicated efforts.

Our Safety
Since inception, NewLIFE has maintained a low incidence of multiple pregnancies. As multiple gestations have a higher risk of complications for the mother and the babies, it is important to note that more than 4 out of 5 NewLIFE conceptions are single babies. Through the years, NewLIFE has received recognition and accolades from many online consumer resources.

Our Savings
Cost-effective fertility care saves both time and money by managing a correct diagnosis with specifically effective treatments. NewLIFE offers fertility services that costs 40-50% less than the national averages (See chart below). Costs vary with a patient's unique fertility issues and a detail of costs can be provided after reviewing medical records and test results. NewLIFE also offers financing options that can reduce the time to begin treatment to have a baby.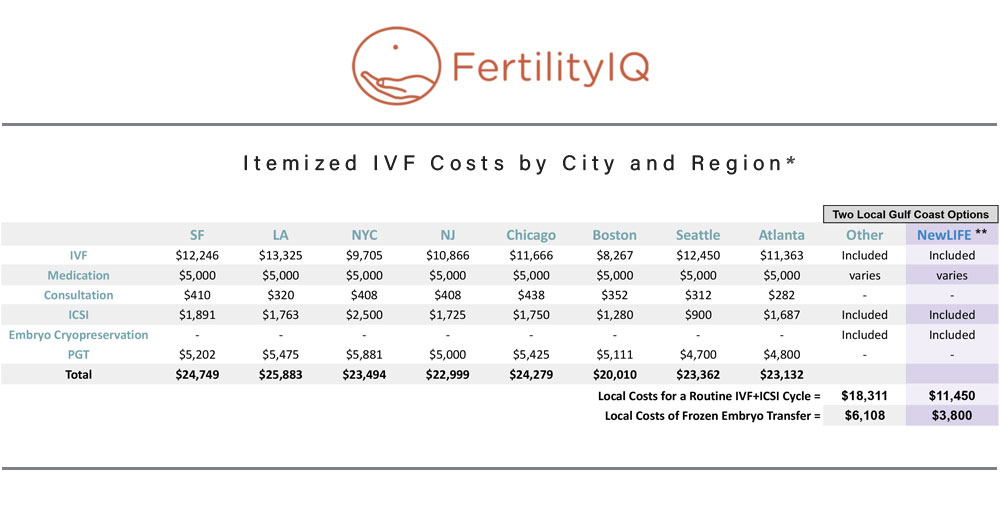 *Source: Fertility IQ data (adapted to show local costs in a direct comparison of common services).
**The estimated prices shown are subject to change, and may not be reflective of current pricing.