Lower IVF costs help turn one Tallahassee couple into a family…
My husband and I were married in March and wanted children fairly quickly, so in June, I stopped taking birth control. Two years later without a pregnancy, my General Practitioner suggested a fertility consultation. We were referred to NewLIFE, and our first visit was in November. We were told that because of a low sperm count, IVF would be our best option. We had prepared ourselves to hear that, but it was still scary – and we were very concerned about the cost because, like most insurance plans, ours covered diagnostic testing, but didn't cover the actual IVF procedures or any of the drugs. But we were pleasantly surprised to find out that NewLIFE's costs were much more affordable than we had read online.  Why are people paying so much in other places and big cities?
We were ready but needed to delay so I could get settled into a new job. However, when we returned in January, we learned that a test suggested low ovarian reserve– meaning my egg count was very low for someone my age, and there was a possibility I could go into menopause sooner. That wasn't a certainty, but it was devastating to think that I might never be able to have children of our own, so we decided to start the IVF process right away. The idea of giving myself a shot every night was scary, but the staff members at NewLIFE are incredibly supportive and empathetic. They made themselves available to us at all hours in case we had questions or concerns. In mid-February, we made the short trip to Pensacola for the egg retrieval and lucky to have found 12 eggs.  Eleven were mature, and 9 fertilized.  We were thrilled, and it seemed that the NewLIFE staff was just as excited for us as we were! Five days later we went back to have two embryos transferred. All of the procedures were quick and painless, and we even got to watch our "babies" go into my uterus on ultrasound. It was amazing!
Only 10 days later we got the news we'd been dreaming of for almost three years – we were pregnant! Just two weeks later we saw the heartbeat by ultrasound. Our son was born on October 20th, perfectly healthy and weighing 6 lbs 4 oz.
The uncertainty of infertility was stressful and scary, but NewLIFE makes the process easy.  All of our questions were answered and they treated us like we were their only patients. I'm not sure that we would have had the same experience and outcome had we gone somewhere else, and we recommend NewLIFE to anyone who is having issues conceiving. We will definitely be returning when we are ready for baby #2!  We wanted to share our story so others would feel confident, too.
How to succeed with male infertility…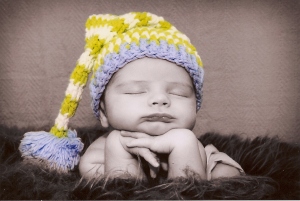 When we decided to start our family things did not go as planned. So we sought the help of an OB/GYN in our local area. After one long year of fertility pills and two exploratory surgeries, our OB/GYN told us that she had done all that she could do. We were emotionally spent and frustrated, so we went to another gynecologist who after hearing our story, said we needed a sub-specialist. We were immediately referred to NewLIFE and to Dr. Ripps, a board-certified reproductive endocrinologist.
On our first visit to the office we fell in love the staff. We felt encouraged that Dr. Ripps and his staff would do all they could to help us get pregnant. Dr. Ripps explained that we were dealing with male factor infertility and that we would most likely need to do IVF with ICSI to conceive but probably like a lot of couples we were hesitant. When two inseminations were not successful, we were ready for IVF. We became pregnant on the FIRST try and welcomed our son Jakob into the world in August.
Dr. Ripps and his staff are so kind and we couldn't have asked for a better experience while going through our struggle with infertility. We now know firsthand what a big difference board certified specialist can make.
– Shauna and Jeremy
Even a good vasectomy reversal needs some help…
Even after a partially successful vasectomy reversal, IUI at NewLIFE worked for us. We had been trying to conceive for only a year, but I was quickly approaching 35 and I knew it would become more difficult the older I got. My husband already had two children from a previous marriage and also had a vasectomy. We had the vasectomy reversed with "surgical success" and so thought we would not have any issues trying to get pregnant. After trying to get pregnant on our own for a year, we made an appointment with Dr. Ripps.
Even though my husband's count and all his numbers were good, after some testing, Dr. Ripps suspected antibodies from the vasectomy were preventing the swimmers from getting past the cervix. Dr. Ripps suggested we undergo insemination, "IUI" that would bypass the cervix. Already having two children, we feared having multiples. So we had two attempts of the IUI with no fertility drugs and had negative results.
For the 3rd and 4th attempts, we used fertility drugs to increase our chances and on the 4th attempt, we had success. Everyone at Dr. Ripps office was so supportive and encouraging during the entire process. It is very stressful to go through the tests and the procedures, but it is well worth it. Our baby girl is such a blessing!
– Tammie and Mark