Our Journey to Parenthood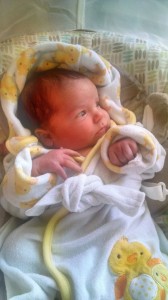 After 5 years of marriage and no birth control, my husband (military) and I had a surprise pregnancy that we lost at 8 weeks, followed by another loss 1 year later. I was not able to have the physicians on our military base begin evaluating me for the miscarriages or infertility, so I decided to take matters into my own hands and go off base to see a specialist. That's when we met Dr. Ripps and the wonderful folks at NewLIFE.
After some initial tests, they said that I wasn't ovulating every month, probably due to Polycystic Ovarian Syndrome (PCOS). We conceived again with some fertility medications but lost that pregnancy even earlier at 5.5 weeks. But this time, Dr. Ripps helped us find out why it was an abnormal conception.
It was still emotionally difficult to accept, so I took some time off to recover. We decided to pursue adoption in case I wasn't able to have a baby. When we resumed fertility treatments, I followed Dr. Ripps' regimen and lifestyle recommendations for PCOS. While I didn't lose much weight, my hormone measurements improved.
Eventually, we started again and continued for what seemed like many months. There was stress and pressure, as I had a new job and my husband was about to deploy for 6 months.  It was about the time when we were going to give up that, of course, the magic happened.  We were pregnant again! And this time, it was a keeper.
My pregnancy was amazing and our precious bundle of joy was born on time. We are so thankful to everyone at NewLIFE who allowed us to receive this most amazing gift, our little miracle to love and nurture.  They never gave up on us, always encouraging and believing that we could become the family we were always dreaming about becoming.
We hope our story will help you to know, that if you stumble and fall, a few times, you only fail when you quit trying.  Never give up!
– M.N. & C. N.
Perseverance does produce babies, especially when you are in the hands of the best fertility team in the country!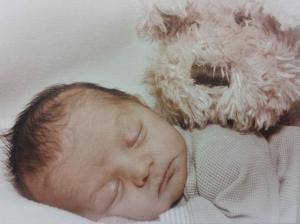 We began our journey to parenthood in our early thirties. We were both active duty military and geographically separated most of our marriage and assumed we weren't getting pregnant due to timing issues as we only had brief intervals together. After a few years of trying to get pregnant, we asked my primary care doctor for a referral to Eglin OB-GYN for a medical work-up. I was diagnosed with Polycystic Ovarian Syndrome and prescribed Clomid. I quickly became pregnant with my now 4 year old daughter and was told we should be able to use Clomid for future pregnancies. Unfortunately, that was not the case. After two years of taking Clomid, followed by practically every fertility medication on the market, all which had a diverse range of unpleasant side effects, we were still not pregnant. We persistently requested an off base referral to a fertility specialist until we were successful. I did my homework online and discovered Dr. Ripps and the New LIFE team. From my first visit with Dr. Ripps and every subsequent visit with he and his staff, I felt like I was in excellent hands and that I was exactly where I needed to be to have the best chance of growing my family.
Dr. Ripps educated us about our options and respected our desire to start with a conservative approach and ramp-up intervention as needed. We had my husband checked out to make sure there were no issues in addition to my PCOS. We tried a few rounds of timed intercourse followed by a few rounds of IUI, none of which were successful. We finally decided to stop messing around and go for the big guns with IVF. It was much less expensive than we expected and Tricare surprisingly covered a few of the more expensive medications. The IVF process was not as daunting as I imagined and the nurses were so wonderful in both their clinical care and their emotional support. They were my personal cheerleaders and I felt like they wanted me to get pregnant as much as I did. My first cycle of IVF was a success and I have a 10 month old son to show for it.
We are now repeat customers and have scheduled a frozen embryo transfer with the remaining embryos from our first IVF cycle. We are hopeful, excited and confident that once again, we are in the right place to have the best chance of growing our family. My only regret throughout the process is that I did not insist that the military refer me off base for specialty evaluation and treatment sooner. Perseverance does produce babies, especially when you are in the hands of the best fertility team in the country!
– Rich & Stephanie, Ft Walton Beach, FL
 Military IVF is NOT the same… go private
We thought we would be saving money with IVF through the military…  When my husband and I (both military members) were married in 1994, we dreamed of having 3 or 4 children after a year of "couple" time. After two years attempting to conceive, I contemplated seeing a specialist but the military timetable set us on the move to Tucson, AZ. There, two trips to the emergency room for excruciating pain led an Air Force OB/Gyn to refer me off-base to an infertility doctor who discovered endometriosis at laparoscopy. After surgery and a couple of rounds of Clomid without success, my husband was sent to Korea.
On his return we moved to Hurlburt Field near Pensacola, Florida. With my endometriosis pain getting worse, an Air Force OB/Gyn referred me to Dr. Ripps, who spent an hour in consultation where he explained in-depth how the endometriosis was affecting my body and my fertility. After a thorough second laparoscopy surgery, we were given options of "IUI" or "In Vitro" and we chose IUI even though the military wouldn't pay for it. The NewLIFE staff was wonderful at making us feel like we were their only patients and that they cared about us.
Our first cycle with IUI failed and we sought care at a military-affiliated IVF center in Bethesda, Maryland near Washington, DC, thinking we would save money. Drugs would be free and the procedures at a reduced cost. But with a waiting list, it was 6 months before we went to Washington, DC for a failed IVF cycle that the doctors could not explain. They offered us another cycle and after another 6 months delay, we were flying back to Washington, DC, again. We spent 3 weeks in DC, not working, and staying in a hotel. This second IVF cycle also failed and we turned down for a third. I was depressed and began to think that I wasn't meant to have a child.
After a year of depression, I finally "accepted" that I wasn't going to have a child but was determined to find a life without pain every month. My research about endometriosis brought me back to Dr. Ripps's website where I began reading testimonials that inspired us to try again.
Just like our first experience, my husband and I received an hour with Dr. Ripps to discuss our options. Dr. Ripps reviewed records from our two failed IVF cycles and found another clue…signs of PCOS! Dr. Ripps adjusted the medication doses, adding Metformin and starting Lupron earlier than I had previously.
But beyond the technical details there was something truly astounding: I didn't feel like a number. At every visit, I felt like the entire office, from the receptionist to the IVF coordinator, was pulling for us and genuinely cared. Being at home after every appointment helped me relax greatly. I was pregnant in the FIRST try in Pensacola. We couldn't believe it!! Both of us were stunned, elated, happy, and excited. When the coordinator called us to give us the good news, we could tell she was just as happy to give us the news as we were to hear it!  At our ultrasound appointments, we confirmed it – one baby with a heart beating strong!
I cannot begin to describe the difference at NewLIFE and how with his attention to detail and the office's caring attitude, Dr. Ripps and his staff made this an awesome experience for us. They are wonderful, caring people who really love what they do and I will always cherish the help they gave us!
In hindsight, I wish we had started our IVF with Dr. Ripps. By the time we traveled to Washington, DC, and went through 2 failed IVF cycles, we could have completed a cycle at home (and saved some $).
– Gina and John
Personalized care at NewLIFE made all the difference…
After two unsuccessful IVF attempts with military services, the personalized care at NewLIFE made all the difference for us. My husband and I, like many couples, always dreamed of getting married and starting a family. We had been married for four years now and after two previous ectopic pregnancies, our journey to become parents became a long and difficult one. After the second tubal pregnancy, the doctors then recommended In-Vitro Fertilization (IVF), and we were referred to a military-affiliated IVF Center in Washington D.C.
Our first attempt at IVF was unsuccessful and I developed ovarian hyperstimulation syndrome creating a miserable experience from beginning to end. After that first failed cycle, our doctor could not explain why the treatment did not work but offered another IVF cycle. Ken and I were desperate to have children and we went ahead and prepared emotionally and financially for the next cycle. Even though the program provides service to military personnel, we still were responsible for thousands of dollars in charges.
Surprisingly, the second cycle was not any better for us as I ended up with hyperstimulation and this time I was in severe pain. I thought that maybe I wasn't meant to have children and became critical of myself. With the negative pregnancy results, I became depressed. The doctors called us and offered yet a third cycle. There was no way we would do another IVF cycle as we had lost confidence in their IVF service.
One year later Ken and I moved to Florida where I went in for a routine visit with an Ob/Gyn. The doctor on base read through my records, and referred us out of the military system to the New Leaders In Fertility and Endocrinology. Dr. Ripps also recommended IVF for us. Call it male intuition but Ken and I enjoyed the extra time given by Dr. Ripps and his staff members and felt encouraged and confident once again.
This time I actually enjoyed going through treatment. I did not feel like another nameless patient and I didn't get sick like the previous two cycles. I felt very relaxed and comfortable going to my appointments. The environment in the office was pleasant, like a home and not once did I feel uneasy. The experience in Pensacola was so different because I knew that the staff had done everything they could to help make this cycle a success. The nurse called to congratulate us on our success: I was pregnant!
Ken and I wish we would of heard about going to a private program much sooner. We spent more time and money on the first two cycles than we did on one cycle with Dr. Ripps. Although our Tricare insurance would not help us, we were able to reduce the cost and find assistance through the military hospitals. For all the other military couples that are dealing with infertility, we will tell you not to give up. We have our two miracles and owe it all to the staff at the New Leaders In Fertility and Endocrinology, affectionately known as "NewLIFE".
– Carol and Ken
Pensacola is the best place for military folks…
Dr. Ripps and NewLIFE picked us up when Tricare let us down. Wow, what a baby.testimony_valerie_steve We came to NewLIFE expecting the worst with several unsuccessful years of trying. My sister's luck was not encouraging either as she needed IVF and it took 4 cycles. Fortunately a military career brought me to Pensacola and to NewLIFE and because I was active duty many of the IVF services were covered including the expensive medications.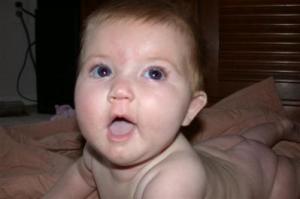 Dr. Ripps and his superb staff were always encouraging and positive. IVF finally worked for us, not only because the NewLIFE members were competent but because they helped us face the challenges and disappointments on the way to success.
This picture of our beautiful baby girl, Isabella, really says it all.
– Valerie & Steve