Disappointments in Birmingham and Mobile helped us find NewLIFE
Although we live in Alabama, disappointments in Birmingham and Mobile helped us find NewLIFE and to conceive in Pensacola, Florida!  Please read our story, it is worth the travel.
After trying for over a year on our own, we realized there was a problem with one of us. So we looked on the Internet and selected a doctor in Birmingham because it was close to our area. But after nearly 2 years and thousands of dollars later we had no results and it seemed we were going backwards. The doctor in Birmingham said that both of us had issues and he put Ryan on expensive meds and performed surgery on Daphne to repair the tubes. A few months later, Daphne's tubes were in the same condition as before.
So we tried a second doctor in Mobile after the first consultation, recommended a second surgery to REMOVE the tubes. After the surgery by my Ob/Gyn, no one contacted us for weeks and when we called the doctor's office, they did not know who we were and claimed not to have a file or record that we had been there. We learned later on the Internet that these Mobile doctors are not Board Certified in fertility specialty, even though many people believe they are.  How can that be? At this point we were devastated and had about given up.
We prayed about it for weeks and had heard good things from friends that had been to NewLIFE in Pensacola, Florida. God was helping us, because from our first call and paperwork, we felt like family!  After the first consultation with Dr. Ripps and meeting their staff, we had good feeling about it and just felt confidence again.  Dr. Ripps told us that Ryan could stop taking all those expensive medications.  They gave us a detailed schedule that other clinics did not do and told us to "call them at anytime during your IVF cycle" to ask any questions. Unlike our prior experiences, when we called, they answered the phone or called us back immediately. We started IVF with NewLIFE in their next cycle and we were pregnant with TWINS on the first try!
Thank you NewLIFE, for what you have given us and for our family and for making this a great experience. We believe this kind of care and service is worth a trip to the beach.
– Daphne and Ryan
Live in Georgia, do IVF in Florida…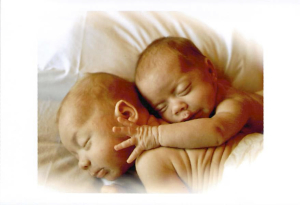 Out-of-Towner's can do IVF easily at NewLIFE
We never expected trouble conceiving. But after a few years, we began to suspect something was wrong. Although we lived in Georgia, we found the best care for us in Florida.  When I first met Dr. Ripps and his NewLIFE Team, they explained our situation very clearly, answered our questions and offered us options for treatment.  Because our testing was unrevealing, we chose to take little steps first with insemination, but that didn't work and we took some time off.  Dr. Ripps and the NewLIFE staff were always encouraging us to continue, "don't give up" and helped us take the next step.
After some time it was clear that IVF was the road we had to take. For the usual reasons, we elected not to tell our families that we were doing this. Dr. Ripps' staff became our family for the weeks of preparation. They were always available to answer questions and calm my fears. With our second IVF attempt we were successful and blessed with twins!!!
We are thrilled to have Claire and Wesley with us now.  They are truly worth all of my anxiety and our effort during our "journey to parenthood" with IVF.  Dr. Ripps and NewLIFE will always have a special place in my heart for their role in giving us our "little lion and lamb".
We sincerely hope others will find the courage to seek care with a true specialist, Dr. Ripps and the NewLIFE Team.
– Jean and Tim
One IUI was all it took.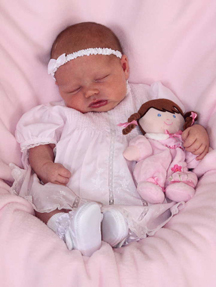 Our gynecologist in Tallahassee made a quick referral to Dr. Ripps. We are so grateful to both of them. One IUI was all it took.
We got married in the summer of 2004 to begin our life together and we knew that one day we would want to have kids. We bought a house, got a dog and spent 3 years just being a couple; everything was going so well and as we had planned. When we started trying for a baby and never imagined that it would be so difficult.
Six months after stopping the birth control pill, we were somewhat discouraged, but started getting really serious. We spent several hundreds of dollars on temperature charting and ovulation prediction kits trying to time everything just right. Of course everyone around us, who had never experienced infertility, would tell us "just relax" and "My husband just looked at me and I got pregnant." Surely well-meaning but definitely not helpful.
After a year of no success, we spoke with my gynecologist who wasted no time and referred us to the "new" NewLIFE office in Tallahassee. We met with Abby and Dr Ripps who recommended several tests to find out what was really going on. We were actually relieved to find out that we were dealing with a low sperm count and that things looked hopeful. The NewLIFE staff seemed confident and was always there to help us along. We decided to try the IUI with fertility medications before the more expensive IVF.
Luckily, after the first try, it worked! We were so happy and thankful to everyone at NewLIFE. The staff was always there to answer our calls, no matter what day or time or how silly we thought the questions were. Thanks to God and NewLIFE, we now have a beautiful baby girl.
– Gary and Becky
Twins in LA… Lower Alabama
Diagnosed with endometriosis we chose IVF from NewLife. Two years later, we had twins.
My husband and I tried to conceive for several years before surgery found endometriosis and scar tissue that had damaged my tubes. We traveled quite a distance from southern Alabama to see Dr. Ripps and his staff. It was worth the effort as we quickly realized we needed the ultimate treatment…IVF.
After an unsuccessful first cycle, Danny needed some encouragement and we both needed and received a great deal of support from NewLIFE staff. But two years later we tried again and succeeded with TWINS. Our little boy and girl are beautiful and we are very grateful.
– Tammy and Danny
Making babies on Interstate 10…
We conceived our little miracle girl on our first try Although we lived in Tallahassee, my mother in Pensacola knew of and had recommended Dr. Ripps. There were other practices closer, but my husband and I are so thankful to have listened to her advice. Dr. Ripps and his staff worked so diligently to help us, we were able to complete the IVF process long distance and conceived our little miracle girl on our first try. We would gladly make that three hour drive to Pensacola again.
– Kim and Anthony, Tallahassee, Florida
Trouble having a 2nd child, getting older
Our family has grown by one because of the staff. Thank you.  Our first child was a surprise but our inability to conceive again after 2 long years was a greater shock. Despite our hesitance to travel to Pensacola, our Ob/Gyn in Panama City insisted on referring us to NewLIFE and after a thorough evaluation, we had to decide between insemination and in vitro. Taking a gamble we first tried insemination twice hoping to overcome a sperm concern, but my response was also a problem even though I was only 26 years old. With our next attempt we used in vitro but was unsuccessful due to few eggs and poor fertilization.
We just could not give up and we almost cancelled a second in vitro attempt because of few follicles. Only 4 eggs were retrieved and we transferred the only 2 that fertilized. When time came for pregnancy testing, I felt no different and was sure of another failure. But the office staff at NewLIFE convinced me to have blood drawn…..it was POSITIVE!
Our very special son, Noah was born in January and it would not have been possible without the honesty, encouragement and unique expertise offered by Dr. Ripps and his staff. Our family has grown by one because of them. Thank you.
– Stacy and David