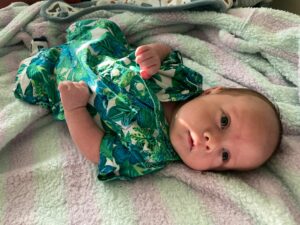 My husband and I had been trying to have a baby for about 5 years with no success. Even after going through IVF somewhere else, and having 3 embryos transferred, all we had to show was two miscarriages. Heartbroken, we really weren't sure we wanted to try again. With lots of conversations, we decided to have get another opinion and that's when we found Dr. Ripps and NewLIFE.
We had just moved from San Antonio, Texas and were looking for a new doctor that took Tricare. NewLIFE is ALL ABOUT helping the Tricare military folks. The staff got all our information together for our first meeting. Dr. Ripps sat with us for over an hour, discussing options and explaining what he believed was the root of our fertility issues. He shared everything with us in great detail (which no other doctor had done, by the way). With everything known, Dr. Ripps encouraged us to try again and to have our embryos genetically tested. This was the best thing as we had 6 embryos, but only ONE was viable, but with that one we got our very healthy baby boy!
The entire staff was so kind and encouraging, always hopeful and they never gave up on our dream of expanding our family. The staff members were so confident, they treated us as future parents, and not just a statistic or number. Dr Ripps was fantastic and changed our lives. We are forever grateful.
-Alia and Aaron Gunn
Success in 6 months…
Our journey started about 4 years ago when my husband and I decided to start a family. For the first few months we were extremely optimistic about being able to conceive a child. After all, we were young and healthy. But as time went by, that optimism slowly diminished, with every passing month bringing increasing disappointment. After our year of trying, we decided to seek the help of a professional to start our family. We were living in Texas. Before the first test result, the first doctor we saw seemed pretty sure he would have us pregnant by the end of the year. But test after test, there was nothing to answer why we weren't able to conceive on our own. The first treatment recommended was to have "IUI" but, let's just say this process was extremely unpleasant, and led to more disappointment. The facility that we went to seemed to rush everything, and seemed to not care about the comfort of their patients, and our experience overall was just unpleasant. After about 3 years we were beginning to tell ourselves that we may not be able to become a family, that maybe this what just how it was going to be. We took a long break and then moved from Texas for his new job in Virginia. The ongoing "what ifs" wouldn't let us give up, so we went to another doctor in Virginia and went back through the gauntlet of tests. Again there was nothing that stood out. This doctor eventually suggested IVF, but we were on the verge of moving again for my husband's work. But this is where our journey took a BIG turn towards a happy ending. We moved to Florida December, and began looking into IVF. We came across New Leaders Fertility & Endocrinology, even the name is cute and to the point: "New LIFE". From the very first visit, our experience was so much better. The staff was extremely helpful, and seemed genuinely happy to help. Dr. Delaney was so patient, calming and sweet. Everyone made us feel comfortable, and very optimistic about us having our first child. I was still terrified after all I had read about IVF on the Internet….how painful the process was, with all the shots, and medications, and procedures. Even in a much better fertility practice, I had my doubts and I wasn't sure I wanted to go through with the process. We decided to give it a shot, and now I can honestly say, DO NOT believe everything you see on the Internet, the medication was easy, the procedure was quick, and after seeing our babies heart beat for the first time in June, I would do it all over again. Yes, just 6 months after landing in Pensacola, our dream was coming true!!!! I want to thank the whole New LIFE Team for changing what I thought was a daunting situation into a pleasant, easy and very positive experience!