Overcoming set backs…
Our fertility journey had many set backs and disappointments. Yet, sharing it may give hope to someone else. My husband and I were married in our early twenties and we had a plan of how things would go, have our first child after 2 years, then a total of 3 children all 2 years apart. Plans become like dreams sometimes. And after stopping birth control, I began daydreaming of "two blue lines" and how I would break the news to everyone. And then, nothing…really nothing, no positive tests, no period, nothing at all. After a few months of this, our plans that had become dreams met reality! This was not normal and we needed help.
At our first appointment with a REI in Jacksonville (Brown Fertility), he thought it was "PCOS", and right away began discussing costs with us. It seemed almost every patient there took a similar path: 3 rounds of IUI's with injectables then IVF. We didn't know any better and went with the program. After three unsuccessful IUI cycles, it was on to our first cycle of IVF. While not easy, we got our first ever, positive home pregnancy test! But the HCG numbers were low, followed by 2 weeks of uncertainty. We continued with blood work every two days even as they weren't rising. We never saw the doctor and the nurses simply recommended continued testing (and paying). At the end of the two weeks, my numbers began to drop and I miscarried. Our REI finally reappeared only to discuss the costs of a frozen round, Frozen Embryo Transfer (FET). The loss was devastating, and the lack of compassion was discouraging, if not insulting.
Around the time of the miscarriage, we found a job opportunity in Pensacola. We felt like we were fertility experts and that our experiences were the best one could expect. However, our first appointment at NewLIFE with Dr. Ripps was a completely different experience. From the first session, he gave us a lot of time to really get to know us as individuals and treat us accordingly. The whole team became like a family to us. We were always greeted by name and with a smile at every visit. This fertility practice truly loves what they do…we saw it and felt it. I guess our lesson is that not all fertility practices are the same!
Our first "FET" with the embryos from Jacksonville, resulted in our second, positive pregnancy test, and an ultrasound showed a beautiful little sac. But with the next ultrasound, there was only a slightly larger empty sac, no heartbeat, no baby, (called a "blighted ovum"). Even with more heartbreak, another loss, the nurse, Linda and Dr. Ripps never tried to rush us. They sat with us, gave us the time, and let us cry. I remember Linda wrapping her arms around me while I sobbed. They understood what a loss it was and it seemed they grieved with us.
I wanted to go straight into another cycle. I still had a goal, a plan… a dream! But Dr. Ripps suggested we pause to see if we could find a cause for our miscarriages. And testing suggested that genetic abnormalities in the embryos might be the issue. We decided to use fresh IVF again but this time with "PGS" (genetic screening). We were thrilled when 7 out of our 9 embryos from that cycle came out to be genetically normal. So on to a second FET. This time we used one of our genetically healthy embryos, and yet another miscarriage, another heartbreak.
Who has the strength, and faith to keep moving forward after this? It takes a little help from everyone, my great husband, Dr. Ripps, Linda and everyone in our NewLIFE fertility family. Instead of only grieving, everyone helped me focus on the future instead, allowing us to schedule our third FET. We were so cautiously optimistic. This time our first ultrasound, we saw a beautiful site we've ever seen, a heart beating, not only one but two heartbeats! The NewLIFE Team was so happy for us. They understood how fragile we were, so they let us come in almost weekly for ultrasounds to watch our babies grow.
When we were eight weeks along, we had to graduate from the REI, but the exam room was packed with Dr. Ripps, Linda, & the rest of the Team….our New LIFE family. We were surrounded by all the people who had loved and supported us. Without them, we would probably have given up and never received these miracle babies.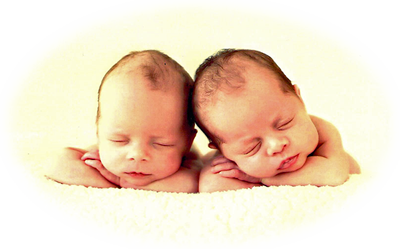 Now, we are so blessed to be parents to a healthy little girl and boy that are the joys of our lives. Looking back, we certainly haven't had an easy road to becoming parents, but God used those rough times for our good. I'm so thankful for such an amazing husband to have walked this road with. I'm also thankful for Dr. Ripps. I know God brought us to him. Honestly, I don't know if we would have continued if we had not met such warm and caring people. And when we're ready to give these babies some siblings, we'll be back to NewLIFE. Because God does make miracles, and our story is proof.
– TM & WM