Finding a Board-certified Fertility Specialist SAVE$$
We left a practice in Mobile, AL, when I learned what truly matters…NewLIFE offers Success, Safety, and Savings.
As a Labor and Delivery nurse in Pensacola, Florida, I spend my day helping others bring new life into this world.  When it was my turn, it was clear we would need In Vitro Fertilization. But like many couples out there, the costs were what we feared most.  My ObGyn referred us to a practice in Mobile, Alabama, but after a couple of visits, as a nurse, I was uncomfortable.  I had to do some homework to find an alternative.  Speaking to friends in Pensacola and former patients, I decided to seek a second opinion with Dr. Barry Ripps at NewLIFE.  My second option quickly became my first choice!  Let me explain why.
Dr. Ripps is a board certified fertility specialist. The doctors in Mobile are only certified in ObGyn.  I am still baffled at how this is allowed by our professional societies and the health insurance companies. I am a certified nurse and immediately recognized the difference. From my first visit at NewLIFE, my anxiety subsided, I was impressed with how I was treated and the thoroughness of the information presented to me.  I felt as though Dr. Ripps was on my side.
I learned from an online resource, www.FindTheBest.com, that for 3 years, NewLIFE was ranked as the #1 fertility practice in Florida and Top 5% Nationwide for its success and safety.  The chances of success for having a baby with Dr. Ripps in Pensacola are far better than the non-certified practice in Mobile, and better than most other places in the country.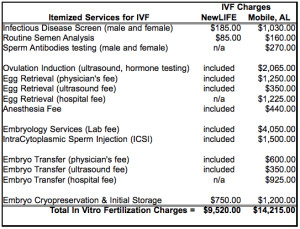 THE BONUS: after all the above, I especially want to share the difference in IVF prices.  The practice in Mobile required many unnecessary and expensive tests before even getting started with IVF.  I made a chart to compare, as the total costs in Pensacola are about 40% less!
Why would anyone who knew, pay more for less.  I am saving enough money for a sibling for my baby!!!!! Thank you, NewLIFE and Dr. Ripps. A Labor & Delivery Nurse will hopefully become a Labor & Delivery patient!
– A&Y, January 2014
Success with Mobile, Alabama's newest (and best) fertility resource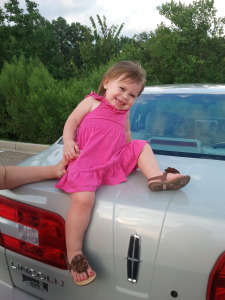 After a year of trying to make our family on our own, we decided we needed some help, obviously something was wrong. First, we were referred to a doctor at Mobile Infirmary, but after the first visit, I felt very unsure, uneasy, and felt I should do more looking around.
It was at a very low point, very discouraging for us, and I didn't know what to do or where to go next. While I was doing some soul-searching, G-d helped us by a chance meeting with an employee at Providence Hospital. We learned that Mobile had recently welcomed a board certified reproductive specialist, Barry Ripps, MD.  What a blessing for us!  As crazy as it may seem, I feel that they opened the Mobile office just for me!
At our first appointment with Dr. Ripps in August, I felt relieved and confident. We walked out with a plan. We knew step by step what was about to happen. There was, of course, some blood work and testing, keeping track of dates and medication but that was all minor. After a short time, we knew that my only problem was that I did not ovulate normally.  Could it be that easy.  I will never forget when Dr Ripps told us that " now days, the only thing we can't fix is menopause." No ovulation…no big deal! Absolute music to my ears!
I was put on a medication to stimulate ovulation. It worked but not perfectly, so in the second month of treatment with NewLIFE we decided to order an extra shot to help me ovulate. Toni, the most wonderful nurse and someone I consider my friend, gave me the shot. Two weeks later,baby_LittleCarla_Baby_Railey_Anne October 19th, she called me with the biggest news ever!
To think that at one time we were almost going to let go of our dream, and now we were expecting our first child!  Our beautiful baby girl was born July 2nd!  My new family is beyond grateful for the NewLIFE Team who are wonderful people that will love and care for you with a genuine heart! Not only did they help us but my best friend now has her beautiful baby girl, and another friend is in the process of consultation!
Infertility is a scary thing and daunting at times, but it's not nearly so when you get help from true specialists. Our minds tend to go to the worst case possible, when sometimes it's as easy as getting your body on track and helping it with a little boost.
Hang in there, have a little faith, and you too will soon be holding your beautiful miracle baby!
– Carla
Finding a Board-Certified fertility specialist in Mobile, AL made all the difference for us…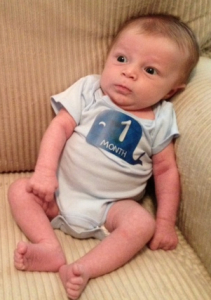 Finding a Board-Certified fertility specialist in Mobile, AL made all the difference for us….
We were trying to conceive for one and a half years and seeing a non-certified "specialist" who performed surgery on me, said my husband's sperm were "abnormal" and treated me with months of pills, injections and inseminations. Nothing worked until my gynecologist referred us to Dr. Ripps and NewLIFE.  When the fertility testing was made clear, we were in the "unexplained" category.  Dr. Ripps assured us that it wasn't the worst diagnosis.  But with another doctor, the simple therapies using insemination had not worked for us.  Fortunately, the NewLIFE Team was always supportive, caring and encouraging us to continue even with IVF.  We were successful on the first try!  When I was at 19 weeks, we learned that we were expecting a baby boy!!!
We are just too excited and feel incredibly blessed. We wholeheartedly recommend Dr. Ripps to anyone having fertility problems as he is a Board-Certified specialist, an important fact.  The IVF Laboratory is top notch.  NewLIFE made what is sometimes a scary process seem so easy. It was easier than I ever imagined.  We no longer felt like something was "wrong" with us.  They all made us feel completely "normal", even routine.  At every visit to the Mobile, Alabama office and Pensacola, we felt like family, receiving personalized attentionBaby_Evans_Barrett with sensitivity, but honesty.  We "miss" them now and wish they could take care me during the pregnancy too.
If you are reading our story and it rings a bell with you, please take that first step to see a certified specialist as soon as possible.  We are so grateful for that chance.
– Julie and Brian
Untied my tubes and magic!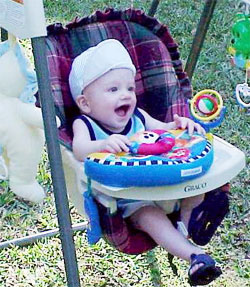 NewLIFE was able to restore our fertility by reversing my tubal ligation. "Our plight was a bit different than some. Life's good fortunes are no more predictable than misfortunes and after having my tubes tied years before, I met my life's true love. Despite this regretable surgery, Dr. Ripps was able to restore our fertility by reversing my tubal ligation in an outpatient procedure.
It was so simple. We conceived immediately and Gabriel was born in October. We are very grateful and hope anyone who is in a similar situation, allows Dr. Ripps to assist in their care."
– Beata and Sean
Don't let "AMA" scare you…
The value of finding a board certified Reproductive Endocrinologist is invaluable. "I was 37 years of age when I made the decision to see a fertility specialist at NewLIFE. I had been trying for 6 years and spent thousands of dollars on ineffective treatments with a physician who despite years of practice and claiming to be a specialist, was not. Under the care of Dr. Ripps, a board certified Reproductive Endocrinologist, I was quickly evaluated and the diagnosis of endometriosis was made. I conceived in the first cycle of IVF and now have the beautiful baby girl of whom I had always dreamed. The instructions from Dr. Ripps and the exceptional staff at NewLIFE were clear and they were always ready and available to help if questions arose.
I am afraid that there are many other women who, like me, do not understand the value of finding a doctor with proper training. They may waste precious time before seeking the care of a Board certified reproductive specialist. Some of them, unfortunately, wait too long and lose their only opportunity to be a parent. My best advice to others couples is to seek out a Board certified reproductive endocrinologist, then make a plan and follow through to the last detail."
– Paula & Bryon, Destin, Florida