The power of courage…
My husband and I have a special story that we wanted to share, to share our joy and gratitude. I have a very active career as a physician and with so much demand on my time, I was hoping to carefully plan our pregnancy. When we did not conceive quickly, it became a source of additional daily stress, much subconsciously. I kept revisiting the "what-ifs" in my head.
Fortunately, I knew Dr. Ripps and the staff at NewLIFE, and getting in and getting test results did not add much more complexity. The results were still a bit surprising, because the fertility problem was not with me but with my husband. He is in such great shape and so healthy, I never would have suspected it.
Dr. Ripps explained the semen report and it was confirmed on a second sample, "odd shapes and slow swimmers". Based on these, the choices were quickly leaning toward IVF. I was pretty devastated. How would I fit that treatment into my already busy life? Dr. Ripps was so optimistic though, and ordered one, newer sperm test. Its results suggested that we might have a small chance without IVF. So Dr. Ripps didn't waste any time, he recommended doing an insemination "IUI" as soon as possible. Well, the "soon as possible" was the next week when I was due to ovulate.
So in a natural menstrual cycle, without fertility medications and a spontaneous "surge", we scheduled the insemination and OMG, it worked!
I am well along in the pregnancy and we know it's a healthy baby boy.
Professionally, we want to see things clearly, "black & white" but I am learning. This experience has taught me to that sometimes gray is OK and to never-say-never and to have the courage to simply try. I hope if you are reading this, you will at least "try". You never know!
- DHS
---
Finding a Board-certified Fertility Specialists SAVE$
We left a practice in Mobile, AL, when I learned what truly matters… NewLIFE offers Success, Safety, and Savings.
As a Labor and Delivery nurse in Pensacola, Florida, I spend my day helping others bring new life into this world. When it was my turn, it was clear we would need In Vitro Fertilization. But like many couples out there, the costs were what we feared most. My ObGyn referred us to a practice in Mobile, Alabama, but after a couple of visits, as a nurse, I was uncomfortable. I had to do some homework to find an alternative. Speaking to friends in Pensacola and former patients, I decided to seek a second opinion with Dr. Barry Ripps at NewLIFE. My second option quickly became my first choice! Let me explain why.
Dr. Ripps is a board certified fertility specialist. The doctors in Mobile are only certified in ObGyn. I am still baffled at how this is allowed by our professional societies and the health insurance companies. I am a certified nurse and immediately recognized the difference. From my first visit at NewLIFE, my anxiety subsided, I was impressed with how I was treated and the thoroughness of the information presented to me. I felt as though Dr. Ripps was on my side.
I learned from an online resource, www.FindTheBest.com, that for 3 years, NewLIFE was ranked as the #1 fertility practice in Florida and Top 5% Nationwide for its success and safety. The chances of success for having a baby with Dr. Ripps in Pensacola are far better than the non-certified practice in Mobile, and better than most other places in the country.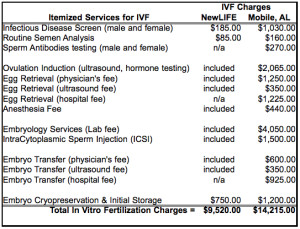 THE BONUS: after all the above, I especially want to share the difference in IVF prices. The practice in Mobile required many unnecessary and expensive tests before even getting started with IVF. I made a chart to compare, as the total costs in Pensacola are about 40% less!
Why would anyone who knew, pay more for less. I am saving enough money for a sibling for my baby!!!!! Thank you, NewLIFE and Dr. Ripps. A Labor & Delivery Nurse will hopefully become a Labor & Delivery patient!
– A&Y. January, 2014
---
With PCOS, success requires determination…..
We lived in Memphis, when my husband and I started trying to conceive our second child about 5 years ago. Without any luck, I saw a fertility specialist in Memphis and my diagnosis was PCOS. With medication I eventually became pregnant, but it was an ectopic pregnancy. The baby had a heartbeat but was not in the right place. The emergency surgery took the baby and my left tube. Six months later, I was pregnant again, but this time I miscarried.
We were emotionally exhausted and decided to take a year off during which we moved to the Alabama Gulf Coast. At this point, my heart had decided on adoption, but my husband wanted to try one more time for a baby of our own. Third time's a charm, right?
I went along with my husband eventhough I thought my mind was made up. Then we met with Dr. Ripps. He made us feel comfortable and gave us hope that getting pregnant and successfully carrying a baby all the way was really possible. Together When we met with Dr. Ripps in July we decided together that IVF was the right choice and by August, I was PREGNANT !
This time our baby grew where she needed to be and her heart had started to beat. No words could ever describe the joy we felt to see her on the ultrasound for the first time. I dreaded having to leave the NewLIFE office because everyone there was so comforting and helpful. Linda was my support a few times even after I was referred back to my ObGyn, because I valued and trusted her opinion.
Thank you, Dr. Ripps, Linda and the rest of the amazing Team at NewLIFE for helping us bring our sweet daughter into the world.
- D&G
---
Don't give up hope after miscarriages…
We came to NewLIFE and Dr. Ripps after trying to conceive on our own for 2 years. We went through some screening and with some pretty severe issues, we were recommended to IVF as our best and pretty much, our only option to get pregnant. So we went for it. Our first two IVF attempts each ended in early miscarriage and the disappointment made us start to lose hope.
But when we felt we didn't have the strength in ourselves, we found tremendous support from everyone at NewLIFE that made it possible to keep trying. Dr. Ripps did not give up and began testing me for unusual conditions that might have caused the pregnancy losses. I was found to have inherited one of these (thanks Mom and Dad) but with the appropriate treatments, we were successful on the third IVF cycle.
Nine months later on St. Patricks Day, no less, we had our beautiful baby girl! She's happy, healthy and has turned one year old. It is difficult to describe how much joy she has brought to us. We are also so grateful to Dr. Ripps and staff at NewLIFE. We believe they can help anyone!
- Irina and Charles
---
Our gynecologist in Tallahassee made a quick referral to Dr. Ripps. We are so grateful to both of them. One IUI was all it took.
We got married in the summer of 2004 to begin our life together and we knew that one day we would want to have kids. We bought a house, got a dog and spent 3 years just being a couple; everything was going so well and as we had planned. When we started trying for a baby and never imagined that it would be so difficult.
Six months after stopping the birth control pill, we were somewhat discouraged, but started getting really serious. We spent several hundreds of dollars on temperature charting and ovulation prediction kits trying to time everything just right. Of course everyone around us, who had never experienced infertility, would tell us "just relax" and "My husband just looked at me and I got pregnant." Surely well-meaning but definitely not helpful.
After a year of no success, we spoke with my gynecologist who wasted no time and referred us to the "new" NewLIFE office in Tallahassee. We met with Abby and Dr Ripps who recommended several tests to find out what was really going on. We were actually relieved to find out that we were dealing with a low sperm count and that things looked hopeful. The NewLIFE staff seemed confident and was always there to help us along. We decided to try the IUI with fertility medications before the more expensive IVF.
Luckily, after the first try, it worked! We were so happy and thankful to everyone at NewLIFE. The staff was always there to answer our calls, no matter what day or time or how silly we thought the questions were. Thanks to God and NewLIFE, we now have a beautiful baby girl
---
PCOS?… not so big of a problem…
After years with no ovulation, just being able to make eggs made a baby. Though we each had children from previous relationships, we decided that we really wanted another baby and began our quest. Our three-year journey to becoming parents again began with a vasectomy reversal.After the "surgically successful" vasectomy reversal, we tried on our own for over a year and to our surprise, nothing happened. My OB/GYN started me on Clomid for 5 months without a pregnancy and without answers, so we tried on our own for several more months. During this time pre-cancerous cells were detected on my cervix, requiring a surgical procedure and delaying further attempts. My OB/GYN continued to encourage me to try more Clomid but this time with Glucophage. After 3 months, he told me there was nothing more he could do for me and wanted to refer me to Dr. Ripps. All this had taken 3 years and I was then 35. I just didn't think I could take much more physically or emotionally.
After a few months of not knowing what to do, I visited the NewLIFE website and began reading the testimonials on the site. There were so many others who had success after some really tough times that it gave me the strength and encouragement to try again. My initial consultation was also encouraging. As a reproductive specialist, Dr. Ripps said we had several options that we had not tried before. But I tried not to get my hopes up in fear that treatment would fail again. But the NewLIFE team was so upbeat and positive at every visit it was hard not to believe that it would work, and it did!
The first attempt to make me ovulate worked in October 2008 and we were finally pregnant! Today we have a beautiful daughter. Her middle name is Faith because it took all the faith I had to continue forward with a dream. Thanks to the support I received from Dr. Ripps and his wonderful staff our dream came true. I am thankful everyday for trying that one more time and for NewLIFE in helping us to complete our family.
---
Endometriosis so bad, only IVF could help us….
Our infertility story began in the fall, three years after we were married. After the first year of trying, my Ob/Gyn prescribed Clomid at one dose for 3 months and more the next 6 months. Only after that failed, did surgery find my "severe endometriosis" but the Ob/Gyn said there was nothing more he could do and was referring us to Pensacola for a specialist, Dr. Ripps.
At the first visit Dr. Ripps spent a lot of time with us and developed a plan to help. After some initial testing and reviewing the prior surgery, he suggested another laparoscopy, this time to remove as much of the endometriosis as possible. It turned out to be more challenging for Dr. Ripps than he had expected and the surgery lasted almost 3 hours! Despite this challenge, Dr. Ripps remained confident and encouraging about becoming pregnant.
After the surgery, we tried the simple stuff with three IUI cycles but were not successful. Again Dr. Ripps kept encouraging us, I guess he knows his stuff. So onward to IVF we went and we made it on the FIRST try….with twins! Our girls, Reagan and Riley, were born on January 13.
Words fail to express how grateful Tarrant and I are to Dr. Ripps and the NewLIFE staff. They all coached us through a very difficult time, didn't lose hope and, most importantly, didn't let us lose hope during those years.
- Amy and Tarrant
---
Untied my tubes and magic!
NewLIFE was able to restore our fertility by reversing my tubal ligation "Our plight was a bit different than some. Life's good fortunes are no more predictable than misfortunes and after having my tubes tied years before, I met my life's true love. Despite this regretable surgery, Dr. Ripps was able to restore our fertility by reversing my tubal ligation in an outpatient procedure.
It was so simple. We conceived immediately and Gabriel was born in October. We are very grateful and hope anyone who is in a similar situation, allows Dr. Ripps to assist in their care."
---
IVF works for Endrometriosis
My endometriosis was resolved with IVF from NewLife. I was 32 years old when I conceived my daughter. Even though it had taken me several years to conceive and I took Clomid for a number of months, I thought my fertility problems were behind me. When my daughter was 2, we decided to try to have a second child. After one year on Clomid, my OB referred me to Dr. Ripps for evaluation. The exact cause of our fertility could not be diagnosed right away, but Dr. Ripps was hopeful that I could conceive a second time.
When a laproscopy revealed extensive endometriosis, I thought any hope of conceiving was lost. Dr. Ripps and his staff's encouragement and extensive knowledge of my disease were reassuring to say the least. When two attempts at insemination were unsuccessful, we considered IVF, but decided against it due to the expense of treatment and our concern with conceiving multiples. Dr. Ripps was very understanding of our decision.
After September 11th, like many others, we viewed life differently. We still envisioned our lives with more than one child. My daughter was now 6 years old and she so wanted a sibling. We contacted Dr. Ripps about IVF. The group information seminar we attended was extremely helpful in explaining the IVF procedure. Dr. Ripps and his staff took us through each step of the procedure with photographs and information.
Four months after deciding to go forward with IVF, we found out I was pregnant with twins. I guess you can say we got our money's worth. I delivered two beautiful babies on December 30, 2003, Nicholas and Natalie. Thanks to Dr. Ripps and his staff for helping us complete our family.